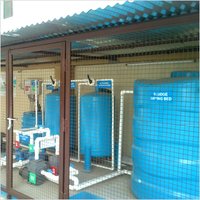 MBBR Based Sewage Treatment Plant
Price And Quantity
Product Specifications
1000-1000000 Liter (L)

Sewage Treatment Plants
AS PER DISCUSSION

AS PER DISCUSSION
Product Description
MBBR BASED STP
Increasingpopulation leads to pollution load in our water bodies & strictness ofagencies engaged in pollution control agencies cannot avoid recycle & reuseof sewage water, MBBR is technological approach for sewage treatment with lessspace & maintenance.


MBBR technology employs thousands ofpolyethylene biofilm carriers operating in mixed motion within an aerated wastewatertreatment basin. Each individual bio carrier increases productivity throughproviding protected surface area to support the growth of heterotrophic andautotrophic bacteria within its cells. It is this high-density population ofbacteria that achieves high-rate biodegradation within the system, while alsooffering process reliability and ease of operation.

This technology provides cost-effective treatment with minimal maintenancesince MBBR processes self-maintain an optimum level of productive biofilm.Additionally, the biofilm attached to the mobile bio carriers within the systemautomatically responds to load fluctuations.
PROCESS BENEFITS
Compact Design
A fraction of the size of conventional systems
Expandable
Capacity can be easily upgraded by simplyincreasing the fill fraction of biofilm carriers
Single Pass Process
No return activated sludge stream required
Load Responsive
Actively sloughed biofilm automaticallyresponds to load fluctuations.
Minimal Maintenance-
No F/M ratios or MLSS levels to maintain.
MBBR processes are an excellent solution forcommon wastewater applications including:
BOD Reduction

Nitrification

Total Nitrogen Removal
MovingBed Biofilm Reactor systems deliver a flexible, cost-effective, andeasy-to-operate means to address current wastewater requirements and theexpandability to meet future loads or more stringent discharge requirementswithin a compact design
Trade Information
Yes

Contact us for information regarding our sample policy
WE PROVIDE ALL EQUIPMENT WITH PROPER PACKAGING

Uttar Pradesh
Contact Us
110/2M, Saleha Nagar, In front Of Telephone Exchange, Ruchikhand- II Lucknow Uttar Pradesh India +918068213662
Phone :+918068213662