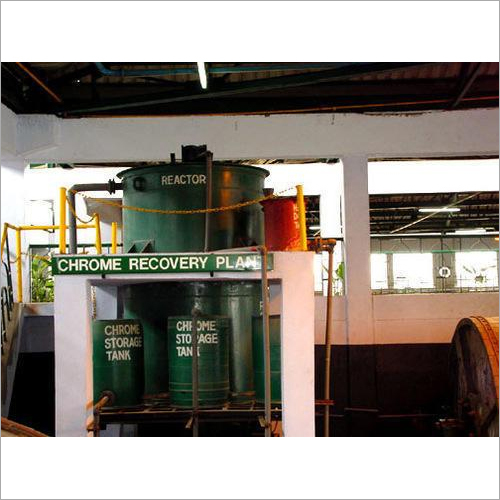 Chrome Recovery Plant.
Product Description
Basic Chromium Sulfate are use in chrome tanning of leather. It stabilizethe leather by cross linking the collagen fibers.
Chrome tanned hide are blue so its called wet blue.
Chrome tanning is faster than vegetable tanning and build stretchableleather.
Tanning provides a surface area to raw hide for other reaction.
After complete the process chrome should be recovered if remain then itform harmful chromium.
Description of chrome recovery plant:
1. Spent Chrome liquor store in collectiontank which pH approx 4-5.
2. Reaction Tank- In this introduce the effluentand increase the pH up to 7-8 using Magnesium oxide dosing for reaction. MgOalso sediment the chrome.
3. Chrome recovery tank- In this precipitatedchrome store and dosing of conc. H2SO4 tominimize pH 2-3.As a flourishing industry, we are instrumental inmanufacturing and supplying a premium quality range of Chrome Recovery Plant. This plant ismanufactured from premium quality range of basic components with the help ofadvanced techniques at our well equipped manufacturing unit. The offered plantis used for liquid purification processes for chrome containing waste watersuch as solids precipitation, sedimentation and separation from waste water,demanded in various industries. We provide this Chrome Recovery Plant in different specifications as per theapplication need of the clients at very nominal rates.
Features:
Corrosion free coating
Contact Us
110/2M, Saleha Nagar, In front Of Telephone Exchange, Ruchikhand- II Lucknow Uttar Pradesh India +918037404851
Phone :+918037404851